Complement overactivation in geographic atrophy

The damaging effects of complement overactivation in geographic atrophy
The damaging effects of complement overactivation in geographic atrophy
Overactivation of the complement system has been implicated in retinal cell loss and in GA, in which lesions cause retinal pigment epithelium and photoreceptor cell death in the macula.1
What is the complement system?
The complement system is an integral part of our immune defence system.
In healthy people, complement orchestrates the destruction and clearance of pathogens or of the body's own cells that need to be removed. It also has proinflammatory capabilities.2
Complement activation is regulated to avoid overactivation and to protect the body against inappropriate immune attack.
When regulation is compromised, hyperactivation of the complement cascade can lead to inflammation and inappropriate cell destruction.2
Three pathways converge with the cleavage of complement factor C3, which induces inflammation and labels cells for phagocytosis.
The complement cascade continues with the cleavage of complement factor C5, which triggers cell death via phagocytosis, inflammation, and ultimately activation of the membrane attack complex, causing damage and cell death.2
Consequences of complement overactivation in geographic atrophy
The below graphic and videos summarise the consequences of complement overactivation in geographic atrophy.1,3,4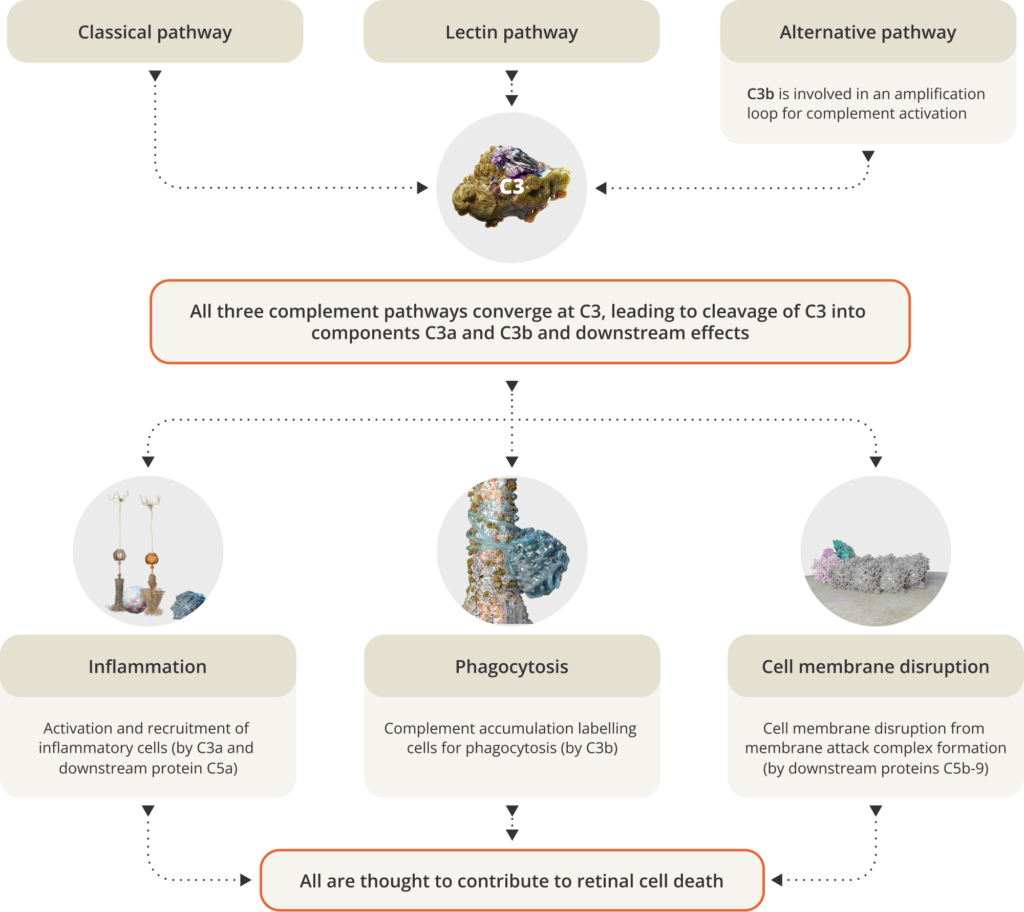 Therapeutic potential of the complement cascade in geographic atrophy
All three complement pathways converge at C3, and it drives multiple damaging downstream effects, thus making it an attractive therapeutic target.5 This potential has already been demonstrated in studies where a clinical benefit has been seen in patients with GA.6

Therefore, targeting the complement cascade, particularly at the level of C3, may offer a treatment option for people with geographic atrophy.6
Explore the complement system and its role in geographic atrophy
The following series of videos provides a more comprehensive overview of the complement system and its role in age-related macular degeneration.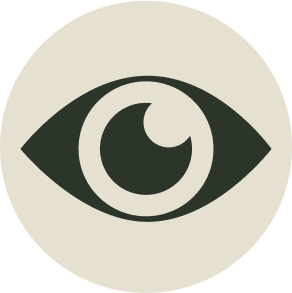 What is geographic atrophy?
By 2040, 18 million people may be facing progressive, irreversible, and permanent vision loss.7,8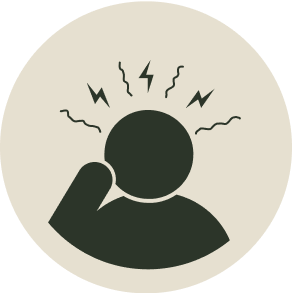 Progression in geographic atrophy
While lesion growth in geographic atrophy may appear to proceed slowly, disease progression is constant and irreversible.9–12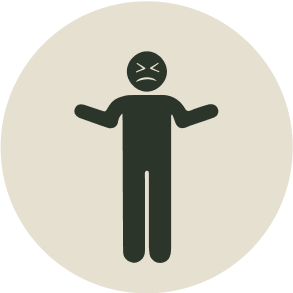 Patients can lose more than their sight to geographic atrophy
They may have difficulty with independence, relationships, and everyday activities.13–15
Katschke KJ, et al. Sci Rep. 2018;8(1):7348.
Murphy K, Weaver, C. Innate immunity: the first lines of defense. In: Janeway's Immunobiology. 9th ed. 2016. London, UK: Garland Science.
Mastellos DC, et al. Trends Immunol. 2017;38(6):383–394.
Ricklin D, et al. Immunol Rev. 2016;274(1):33–58.
Sahu A, Lambris JD. Immunol Rev. 2001;180:35–48.
Kim BJ, et al. Prog Retin Eye Res. 2021;83:100936.
Fleckenstein M, et al. Ophthalmology. 2018;125(3):369–390.
Wong WL, et al. Lancet Glob Health. 2014;2(2):e106–e116 and supplementary appendix.
Holz FG, et al. Ophthalmology. 2014;121(5):1079–1091.
Boyer DS, et al. Retina. 2017;37(5):819–835.
Lindblad AS, et al. Arch Ophthalmol. 2009;127(9):1168–1174.
Sunness JS, et al. Ophthalmology. 2007;114(2):271–277.
Sivaprasad S, et al. Ophthalmol Ther. 2019;8(1):115–124.
Jones D, et al. Invest Ophthalmol Vis Sci. 2022;63(7):A0145.
Apellis & The Harris Poll. 2022. Geographic Atrophy Insights Survey (GAINS).